I mentioned on Monday, that we got to check out the Muster & Music Festival over the weekend. What better day to share such a great event than on Veteran's Day? Scott recalls going to the festival when he was little, and to the museum; I've obviously been to neither. However, we will be returning to the museum soon to get a better look, and surely the festival will be made an annual thing (of ours) to do.
Did you know that the SEALs originated in Fort Pierce, FL? I sure didn't! The Frogmen were a group of volunteers who underwent specialized training down here during World War II. The US Navy UDT-SEAL Museum houses artifacts from their inception, including the lifeboat that Somali pirates held Captain Phillips hostage on back in April 2009. Complete with bullet holes from the SEAL snipers' 3 shots that killed 3 pirates. We are planning to go back soon, as we missed one entire side of the museum.
It had a full weekend of events planned for their 30th anniversary. We just went to the demonstrations on Saturday, which turned out to be a pretty full day event. The trip from Vero was quick, going south on A1A. We could immediately tell that we were getting close to the festivities when traffic started slowing. The demonstrations didn't kick off until 11, and we had gotten there at about 10:30. We didn't have trouble finding parking, though we did have a short walk.
Once inside the festival area, we met up with a coworker of Scott's and a friend of his. A friend that was able to give us a pretty "behind the scenes" glimpse of the festival. Thanks to him, we were hanging out in the staging area for the demonstrations. Things kicked off promptly at 11AM with the LeapFrog demonstration.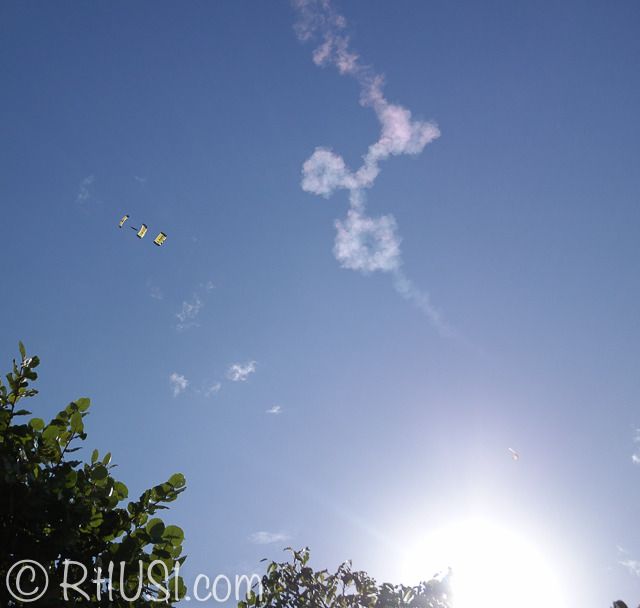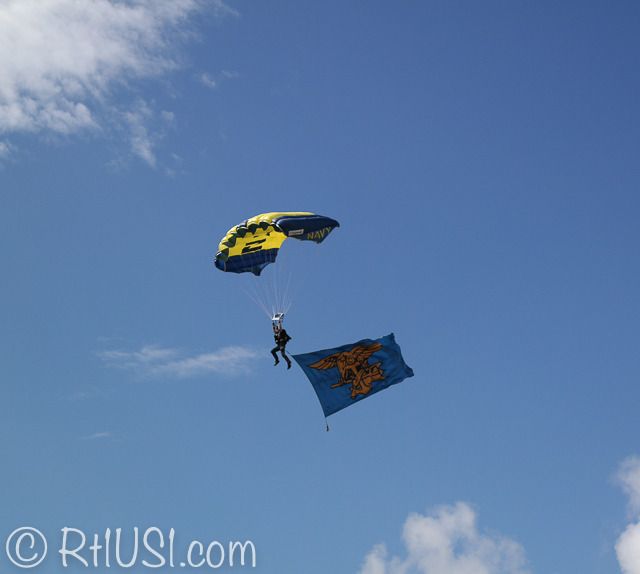 Yes, 5 Navy SEALs jumping out of a plane, in formation. All landing on their feet and walking away like it was routine. Very impressive! While this was going on, the National Anthem was being sung- one SEAL had a HUGE American Flag attached to him for us to salute.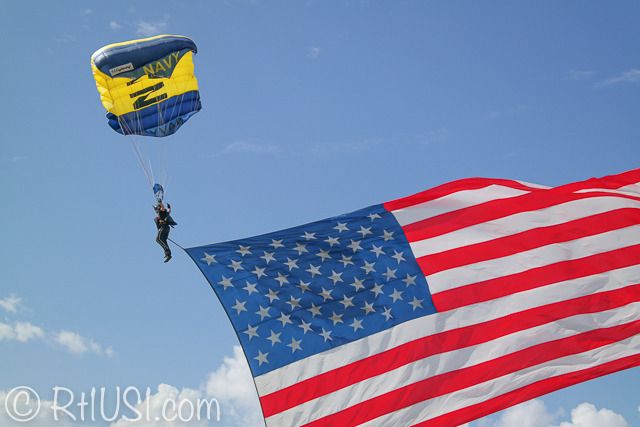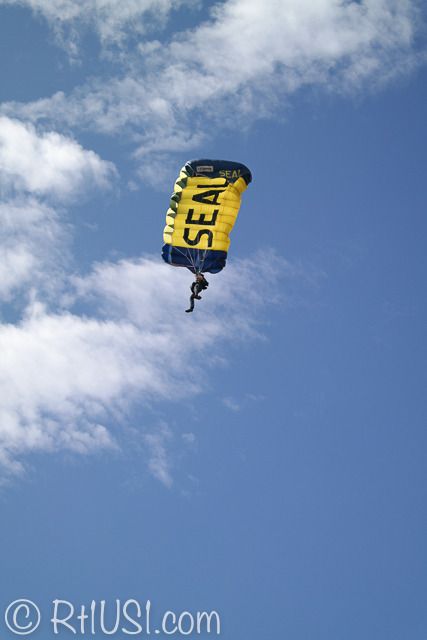 After the Leapfrogs got done, there was a welcome speech from the Director of the museum. Then Titus O'Neil of the WWE gave the keynote (of sorts) speech. He kept it relatively short, but a couple things he said just kind of rubbed me the wrong way. He kind of made it sound as if he, as an entertainer, is just as …badass (for lack of a better term!) as the SEALs. I lost interest and kept sneaking looks at these two very well behaved young Belgian Malinois. They are be SEAL Multi-Purpose Canines. And put my little heathens to shame! You can also follow them on Instagram! Check out the_war_beast and Raven_MPC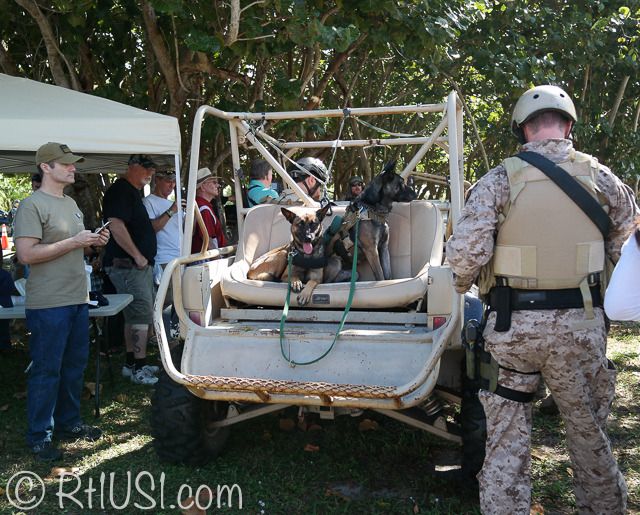 After I posted a picture (of the Leapfrog & flag!) to Instagram, the dogs' handler "liked" it. Ya'll check out Baden K9 for more information on the MPCs' training and Trident Fitness for some crazy Navy SEAL-inspired workouts!
After that, it was time for St. Lucie County Sheriff's Department to do a demonstration with their working dogs. We got a good view of this K-9 getting ready for action as soon as he heard gunfire.
Soon it was time for the MPCs to roll out…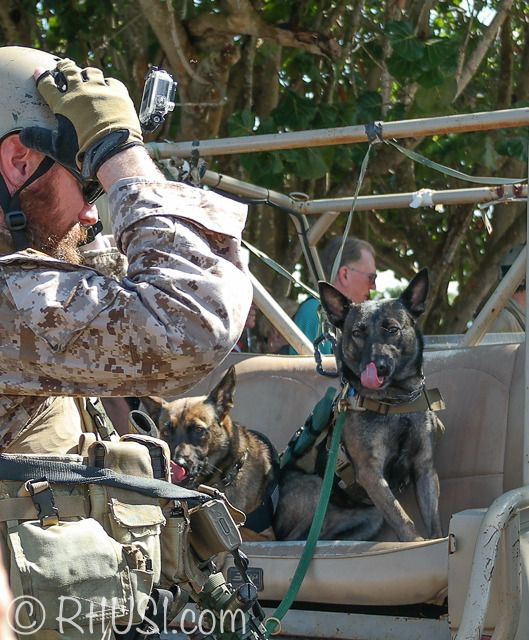 And tear things up!
The demonstrations ended with the "Super SEAL" challenging Titus to… something. I wasn't too sure what was going on, as it was loud and I couldn't hear well, mostly because this was overhead and then landing….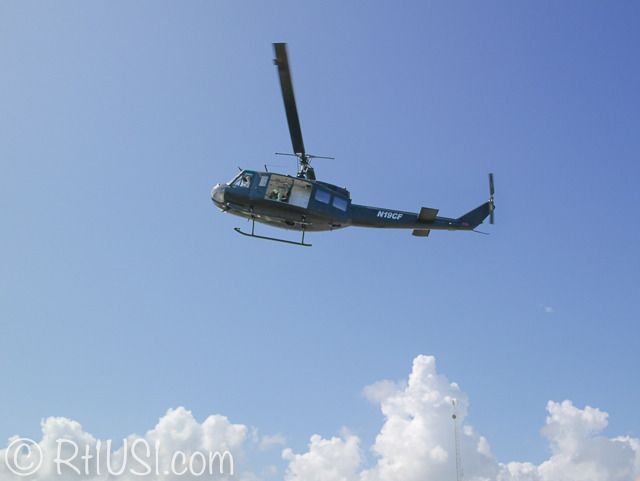 I think the only thing I missed a picture of was a plane doing a very low flyover. It happened quite quickly! And also, of the "bombs" that were set off in the tree line. Pretty much right next to where we were standing. We headed inside after all of this, to enjoy a little A/C and see the museum.
The museum itself has a lot of interactive features that are good for kids and adults. You can look into the lifeboat that I mentioned earlier, take a seat in a Black Hawk, and see what the SEALs see when they use night vision. There is also an obstacle course outside, which is also used in the Multi-Purpose Canines' training.
One of the most interesting parts of the whole day was listening to our new friend tell us stories, and give us first-hand information on all the different guns, knives, and grenade launchers. I topped the visit off with these two new shot glasses to add to my collection; one is actually a demilitarized shell casing from an A-10 Warthog. Which means absolutely nothing to me, except for that it's a big-ass bullet!
Aside from everything that I got to see, they also held a 5k run on the beach on Saturday morning and a beach-side service Sunday morning. There were numerous food trucks onsite, where we had one of the best burgers we've had in a while. There was also a Celtic band that was still going strong when we left around 2pm.
I would encourage everyone in the area to check out the museum and the Muster & Music Festival when it comes time. The volunteers from the museum to the vendors put on a top-notch event that truly honors our Veterans.
Linking with Painted Tea Cup, Jessi's Design, and Home of Malones!