We have definitely gotten some use after we got our Annual Passes to Disney! We went back to Orlando for our 2nd anniversary last week, and had every intention of hitting the parks two days in a row. That didn't happen, and it further confirmed my belief that people that come to Orlando/Disney for "Vacation" for a week are insane. 12 hours or so and 2 parks later, we were in bed and had already decided to cancel our Fast Passes for the next day!
What else have I been up to? I started a new job last week, which is why it was radio silence over here. I came home from work every night exhausted (and with a small headache) from taking everything in. Also, relearning things that I hadn't done in 5 years or so!
Since this weekend has been used to (still) recuperate, and relax, I'm going to talk about taking a peak into the Magic Kingdom at night instead. I promise the Disney posts will slow down… soon!
I should start out by saying that we barely got there in time for the fireworks. BUT we made it, parking was phenomenal, the monorail into the park was nearly empty, and the lines in were nonexistent.

Wishes Nighttime Spectacular. 4.5/5 stars- This was the whole point in us going, and they were amazing. I had said to Scott last week, "I wonder what those cables are for?" They ran from the castle to Tomorrowland (I think) and just looked out of place. Turns out that's Tinkerbell's route! The only downside to the fireworks was trying to find a spot, since we were late-ish getting in. This was because all of the open areas, and some areas along bridges were not to be used as "viewing" areas. So the Disney "security" kept on moving us. Which, I get. But then there's this announcement that basically says, "we shutting the lights down so you can see the display better, please stay where you are." Then they shut down the park lights. But we can't "stay where we are" because they're still herding people through the pathways. If we hadn't used our Fast Passes earlier in the day, I probably would have used one to get to a special Fast Pass only viewing area.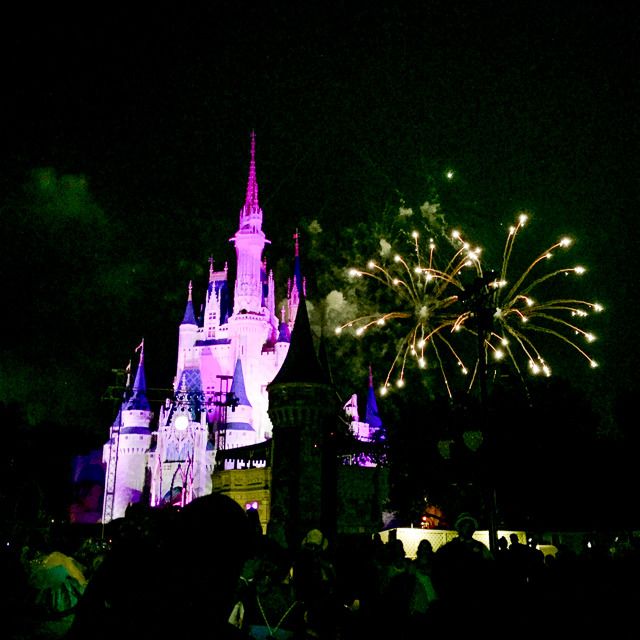 Sorcerers of the Magic Kingdom. 2/5 stars- I mentioned this in my last review post. I decided that after the fireworks, since we didn't have any rides we had to be on at a certain time, and the crowds were (kind of) thinning, it would be a good time to check out this… game? You sign up to be a Sorcerer at the firehouse on Main Street, USA. You get trading cards and a map, then you run around the park "defending" the Kingdom against evil beings. The "map" is a terrible depiction of the park, so we spent about 30 minutes in front of "It's a Small World" trying to figure out what the map's showing. When I first read about it, I thought it'd be a good way to explore the park. It kind of reminds me of geocaching, and collecting stamps. BUT two (almost) 30 somethings running around the MK when there are still a fair amount of people in there, made us feel odd. I decided to give up on the quest once a 7 year old could "unlock a portal" faster than I could. I would do it again, but not until we have a kid that we can include. The other relatively annoying part was that it made you run back and forth between a couple of the same "portals."
Haunted Mansion. 3.5/5 stars- We saw there was no wait (because even at 11pm, there are 70 minute waits on some rides!) so decided to check this out. Ya'll I hate scary stuff, and creepy people. I was fully prepared to throat chop a zombie if it snuck up on me. But, this is a very low key, slow moving ride through a "haunted house." I believe the neatest part was in the library before the ride even started. The holograms at the end of the ride are also neat, but I couldn't get a clear picture!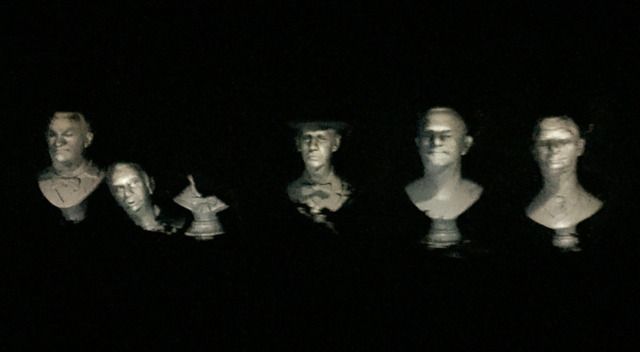 On our way out of the park, we saw that Big Thunder Mountain had a short wait, and decided to check that out at night, since I did enjoy it so much the first time around. Scott and I both noticed some parts of it that looked different/ were different/ we didn't notice the first time we went on it. This was definitely one that was better in the night time!
We didn't get out of the park until midnight, and things were still going strong. There were lots of people still going on rides, and I'm not sure what time the park was actually closing. It was funny watching all the exhausted parents coming out of the park with their kids sleeping in their arms or in their strollers. While we were on the monorail back to parking, I decided to Google "how much money does Disney World make in a day" and found this site. Per my math (which has been known to be wrong a time or two) Disney makes over $5.8 million a day, based on the $67.14/second figure they provided.
Think about that while ya'll enjoy your Monday!!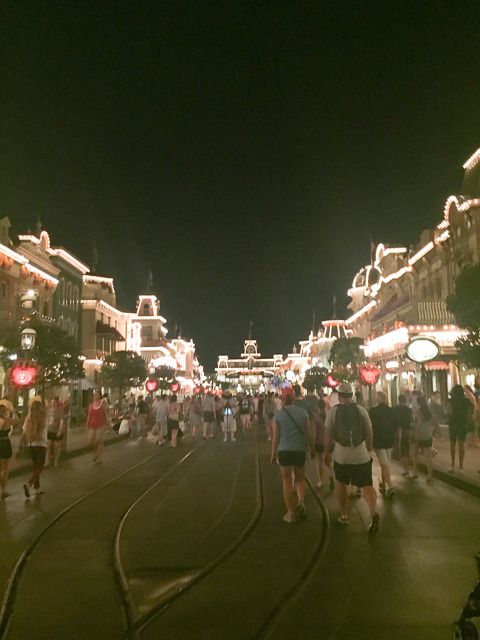 Linking with Biana today!